Alcyona Mick
Alcyona started playing piano at the age of three. She has been performing internationally for many years working regularly with Anglo/Egyptian singer Natacha Atlas, and has performed extensively in France in recent years. She is a member of the London Jazz Orchestra, Tori Freestone/Alcyona Mick Duo, Eddie Parker's Debussy Mirrored ensemble,  Bachar Zarkan Ensemble, Josephine Davies' Orenda trio w Brigitte Beraha, Merit Ariane Moonlarking, Noel Langley's Edentide, John Warren nonet, Paul Clarvis/Stuart Hall trio, and Samy Bishai quartet. She has performed in Turkey for TRT music series with many Turkish artists, and worked with a wide array of other musicians including Yazz Ahmed, Mircan Kaya, Jerry Dammers Spatial aka Orchestra, Ibrahim Maalouf, Macadi Nahhas, Zoe Rahman and many more. 
As a composer she has a MA in Composing music for film from the National Film and Television school. She has written and produced music for many independent short films, documentaries, animation and silent cinema. She has released four albums: Around the Sun (Audio-b) under her own name, Blink (Loop) and Twice (Babel) with Blink and guest cellist Vincent Courtois, and Criss Cross with saxophonist Tori Freestone (Whirlwind Recordings). She also writes for the London Jazz Orchestra and an electronica project with violinist Samy Bishai.
"world class ingenuity" — the Guardian 
"Alcyona Mick is an unusual powerhouse of a talent" — MOJO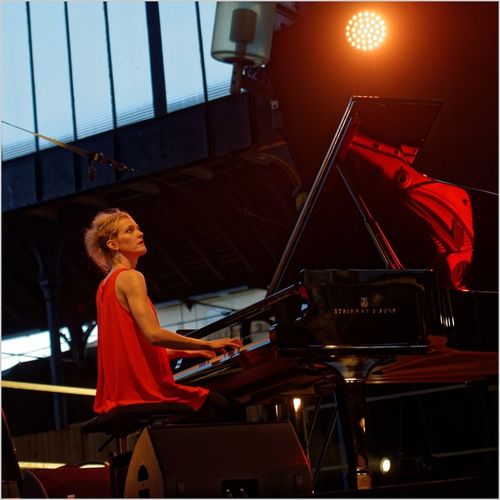 Nick Costley-White
Nick is one of the most in demand guitarists on the UK jazz scene, renowned for a deep understanding of the jazz tradition and repertoire, alongside a virtuosic technique and progressive approach to improvising. Nick is lucky enough to have performed with some of the most renowned jazz musicians in the country including Stan Sulzmann, Gareth Lockrane, Jason Rebello, Alex Garnett, Mark Taylor, Steve Fishwick, Brandon Allen, Jeff Williams and Asaf Sirkis and holds the guitar chair with the London Jazz Orchestra. Nick performs extensively throughout the UK as well as touring in Europe, Australia, China and South America. 
Nick's debut album "Detour Ahead" was released in July 2018 to critical acclaim
"Costley-White proves both his virtuosity and ability to write subtle and engaging tunes" — All About Jazz.
Nick has also contributed to over a dozen studio albums as a sideman with a variety of jazz groups. 
Upon graduating from the Guildhall School of Music and Drama in 2011 Nick was awarded the Yamaha Scholarship for Outstanding Jazz Musicians.
https://nickcostleywhite.com
Alec Dankworth 
Alec has been the LJO's bass player since its inception in 1991. 
In the '80s he worked with Tommy Chase, The Clark Tracey Quintet, Jean Toussaint, Michael Garrick, Stéphane Grappelli, Tommy Smith, Alan Barnes, and Nigel Kennedy. 
In 1995 Alec joined the Van Morrison group touring Europe and America and recording three albums, including The Healing Game. 1997 saw a move to New York, where he performed with the Duke Ellington Orchestra, plus a residency at Birdland. A year later Alec joined The Dave Brubeck Quartet, performing quartet, pops and choral concerts including the New Orleans Jazz Festival at Carnegie Hall. 
He was voted Best Bass Player in the 1995 and 1997 British Jazz Awards, working with Julian Joseph, Peter King, Guy Barker, Martin Taylor, Dave O'Higgins, and Abdullah Ibrahim. 
Since 2001, in addition to performing with his own groups, Alec has worked with the Tony Coe Trio, Alan Barnes, the John Critchinson Trio, Georgie Fame's Blue Flames, Chris Garrick, the Steve Waterman Trio and the Zoe Rahman Trio with drummer Gene Calderazzo. 
In 2012 Alec joined Ginger Baker Jazz Confusion, featuring Pee Wee Ellis. The group toured the US and Europe in 2013, and recorded an album (Why?, Motema Records) in 2014. 
Over the years Alec has also recorded with Buddy de Franco, John Williams, James Galway and the London Symphony Orchestra. and performed with Mose Allison, Guy Barker, Eddie Daniels, Billy Eckstine, Georgie Fame, Stephanne Grappelli, Johnny Griffin, Pete King, Abdullah Ibrahim, Julian Joseph, Marian McPartland, David Murray, Anita O'Day, Dave O'Higgins, Courtney Pine, George Shearing, Tommy Smith, Clark Terry, Lew Tabakin, Stan Tracey, Mel Torme and the Royal Ballet.
Paul Clarvis
Born in Enfield, Clarvis was the late Leonard Bernstein's preferred percussionist in London and featured as a soloist on the last night of the Proms in 1996 in a concerto for saxophone and drum kit by Sir Harrison Birtwhistle. In 1998 he was chairman of the Percussion judges for the BBC Young Musician of the Year and together with Sonia Slany he started Villagelife Records. 
Clarvis also helped Rick Smith with the drum arrangement for the London Olympics 2012 opening, writing Dame Evelyn Glennie's part and together with Smith, assisted in the training of the ceremony's 1000 drummers.
Clarvis has worked with a number of notable musicians: Mick Jagger, Nina Simone, Stevie Wonder, Steve Swallow, Sir Harrison Birtwhistle, Sir John Dankworth to Sir Paul McCartney, John Taylor and Moondog, Gordon Beck, Bryan Ferry and Elton John. He has recorded with Marc Ribot, Sam Rivers, Richard Thompson, The Orb, John Adams, Michael Nyman, Loreena McKennitt, Mark Anthony Turnage and Michel Legrand as well as his own band Orquestra Mahatma. 
He regularly holds gigs with Mose Allison and has also played with Nina Simone, Herbie Hancock and Ravi Shankar.